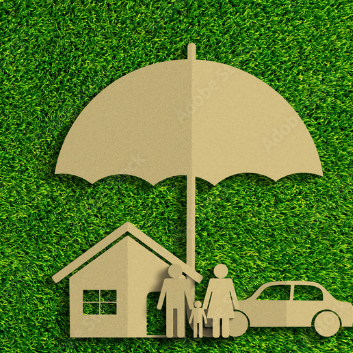 A variable universal life insurance policy covers the policyholder for as long as they live. Similar to universal life insurance, it has a flexible premium and an adjustable benefit, so the policyholder can choose how much to pay into the policy above a minimum. The policyholder consequently chooses the face value of the insurance.
Variable universal life insurance differs from other types of permanent insurance in that the policyholder directs how premiums are invested. This gives you access to the potentially higher returns offered by financial markets. It also implies that the returns may be lower than what those other life insurance products provide.
In general, the policyholder can invest in one or more subaccounts. There could be fixed-income and stock, bond, or money-market options. Guarantees are based on the issuing company's ability to pay claims.
As with other types of permanent life insurance, policyholders can borrow a portion of their cash value under somewhat favorable terms. Interest payments on policy loans are repaid directly into the policy's cash value.
The policy's death benefit is paid to the policyholder's heirs or beneficiaries. Depending on the design of the policy, benefits may or may not be taxable.
Variable universal life insurance has distinct advantages that may appeal to some insurance buyers. On the other hand, a variable universal life insurance policy has options that must be fully understood before an individual commits to a policy.
Suppose certain criteria are met, like the policy not expiring or maturing. In that case, loans made from a policy are typically exempt from current income taxes. Remember that withdrawals and loans reduce the policy's cash value and death benefit. Loans also increase the likelihood that the policy will lapse. If the policy expires, matures, or is surrendered, the loan balance will be viewed as a distribution subject to taxation.
When you borrow from or surrender a portion of the cash value in your insurance policy, you reduce the cash value and the benefit you will receive from the policy. Accessing the cash value may increase the likelihood of the policy lapse and may result in a tax liability if the policy terminates before your death.
Variable universal life insurance can be structured so that the accumulated cash value eventually covers the premiums. However, additional out-of-pocket payments may be required if the policy's dividend or investment returns fall short of expectations.
The cost and availability of life insurance are influenced by age, health, and the type and amount of insurance purchased. There are costs associated with life insurance policies, such as mortality and other fees. If a policy is prematurely surrendered, the policyholder may face surrender charges and income tax consequences. Before considering a life insurance policy, you should consider whether you are insurable. Any policy guarantees are contingent on the issuing insurance company's ability to continue making claim payments.
Earnings withdrawals are fully taxable at ordinary income tax rates. Suppose you are under 5912 at the time of the withdrawal. In that case, you may be subject to surrender charges and a 10% federal income tax penalty. Withdrawals will also reduce the contract's benefits and value. The FDIC does not insure life insurance. No federal government agency, bank, or savings association insures it. Depending on how well variable life and variable universal life insurance performs, the account value will change as market conditions change. There is no guarantee that the policy's account value will never be less than the initial investment.
Methods for Identifying the Most Suitable Universal Life Insurance Provider
Finding the right insurer for your universal life policy requires some research. For starters, choose a financially stable life insurance company to ensure that your cash value and beneficiaries receive their due payouts in the event of your untimely demise. Life insurance companies, and financial strength ratings, are typically available from AM Best or S&P Global Ratings. NerdWallet has compiled a list of the top life insurance providers, and every single one has earned an A+ or higher from AM Best.
Before investing, please consider the investment goals, risks, fees, and expenses. You can only purchase variable and universal life insurance policies by prospectus. Fees and expenses are detailed in the prospectus and can be obtained from your financial professional. Please read the prospectus thoroughly before investing or sending money.
Contact Information:
Email: [email protected]
Phone: 6023128944
Bio:
Mike was born in Chicago, Illinois on August 13, 1946. He was brought up in the
suburb of Skokie on Chicago's northwest side and graduated from Niles Township (
East ) high school In 1964. Two years later he joined the US Air Force in November of
1966. After 2 years of Intense training he volunteered for Viet Nam and was sent to
Bien Hoa Airbase, which was 25 miles from Saigon, the nation's capital. He
volunteered for a number of especially dangerous missions on his days off, such as
flying as a door gunner on a US Army helicopter and as a technical assistant on a
psychological operation on an Air Force O-1E observation aircraft. Capping off his
impressive accomplishments was winning the coveted Base Airman of the Month for
March 1969, a feat which was featured in the Pacific Stars And Stripes newspaper
read by every service man stationed in the Pacific theater of operations. After his
Viet Nam tour of duty he was stationed at Luke Air Force Base in Glendale, Arizona
where he met and married his wife, Lequita.
He graduated from Arizona State University in May, 1973, and after a 30-plus year
career as a financial advisor he joined a number of service organizations including
Easter Seals and Valley Forward, sponsor of EarthFest. He was also involved with the
National Federation of Independent Business and became the longest-serving
chairman of the Leadership Committee ever. He spoke before the ( AZ ) House Ways
and Means & Senate Finance committees. He then joined Disabled American
Veterans ( DAV ) in September of 2015. He rose quickly through the ranks and
became Chapter 8 Commander in May of 2019 where he served with Distinction for 3
years before being " termed out". The next year, as Vice Commander, he won the
title of National Champion Recruiter!